Kolmanskop (or Kolmannskuppe) is a ghost town in Southern Namibia, about 10 km inland from Luderitz. Once a very rich diamond-mining village, it was completely abandoned in 1954 and it is now a tourist destination, famous for its images of sand dunes forming inside the decaying buildings.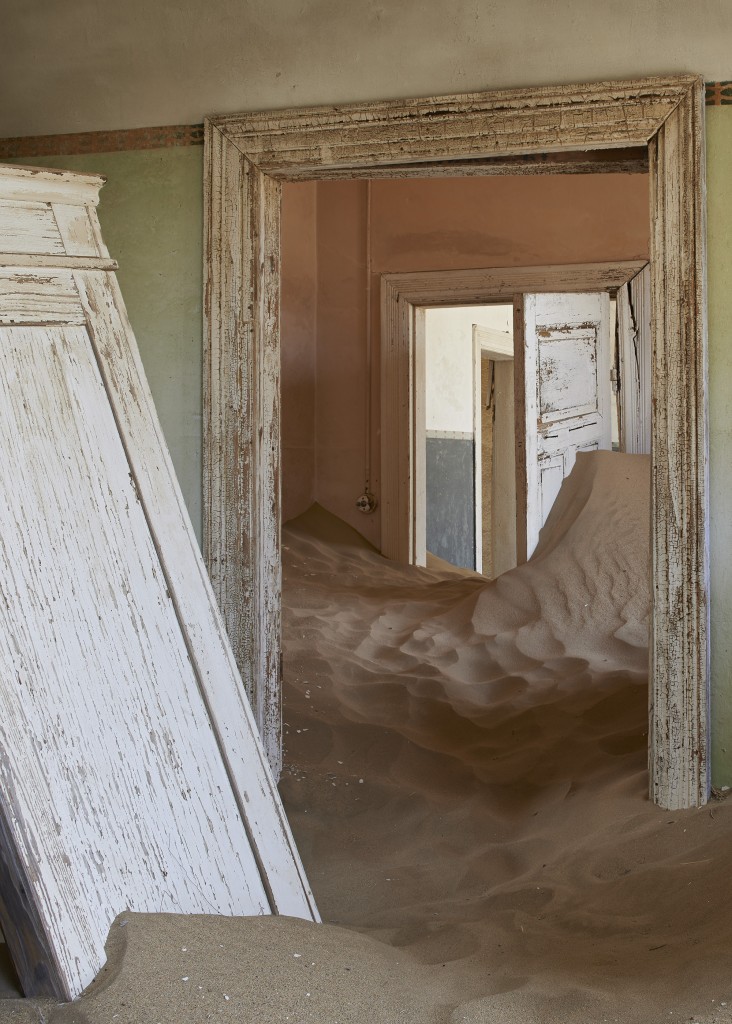 In 1908 German miners settled in this area and built the village in the architectural style of German stone houses. At its peak, the about 400 inhabitants could enjoy a rich infrastructure that included a hospital, ballroom, bowling alley, gym, school, and casino. The hospital was equipped with the first x-ray machine in Sub-Saharan Africa.
Since 1980 some of the buildings have been restored and the area has been opened for visitors. The gym building features a museum, a souvenir shop, and a surprisingly good cafeteria.
The entrance ticket is sold at the gate; the fee is about $ 7 (US) for the ordinary ticket and $ 20 for the photography ticket (opening hours are 8:00 – 13:00). There is wrong (or outdated) information on the web about the requirement to purchase a ticket in Luderitz at least one day in advance of the visit. Therefore we stayed in a hotel in Luderitz, although the village of Aus offers a better verity of accommodation.
There is absolutely no restriction on entering the houses and setting up a tripod. The photography ticket includes the permission to stay in the area after the restaurant and the main gate are closed at 13:00. In any case, cars must be removed from the area before, which is not a big deal because the most interesting buildings are located within less than 1000 meters from the gate. In the afternoon of our visit in October 2013 we were completely alone.
I recommend to start shooting the exteriors in the morning, because sand storms are very common in the afternoons; bring protective gear for your camera, wrap all lenses (I have good experience with ziploc freezer bags) and be prepared to clean your sensor after the shoot. It may become impossible to change lenses even inside the buildings as sand is raining through the leaking roofs.
Because of the orientation of the houses set on a hill side, the light inside the rooms becomes softer in the afternoon. Therefore it is worthwhile to revisit a house at different times of the day. The house of the architect (below) is possibly the best location for images of light rays.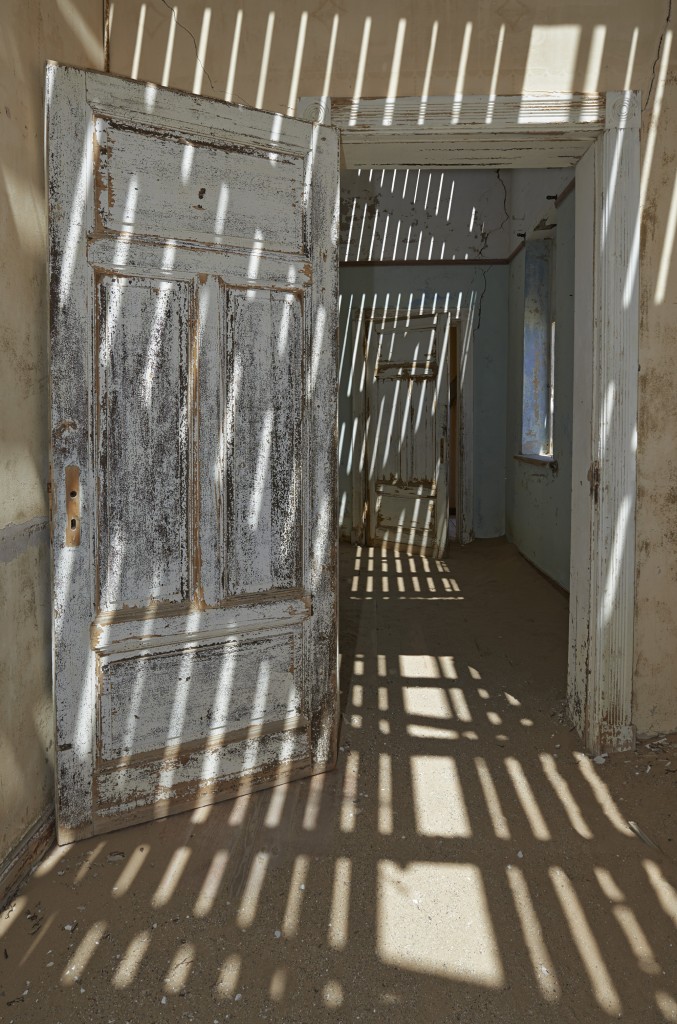 All images were taken with a Nikon D800E and the Nikon 45 mm f/2.8 PC-E  tilt shift lens, which not only allows for perspective control but is also the sharpest normal lens in the Nikon lineup. Occasionally, an SB 900 flash unit, triggered by the pop up flash, was used to fill in the harsh shadows.
The images are included at the end of my Namibia gallery. Enjoy.